5 Statcast facts for Yankees-Indians ALDS
There's no question this year's AL Division Series presented by Doosan pits two teams loaded with talent. Cleveland (plus-254) and New York (plus-198) are set to become the first teams to finish first and second in the Majors in run differential and meet in the postseason since the Red Sox and Cardinals squared off in the 2013 World Series. But as Statcast™ data shows, these longtime AL rivals are remarkably similar in a variety of ways. Whichever team plays to its strengths the best very well could be the one moving on to the AL Championship Series.
Game
Date
Time
Matchup
TV
Gm 1
Oct. 5
7:30 p.m.
NYY @ CLE
FS1
Gm 2
Oct. 6
5 p.m.
NYY @ CLE
MLB Network
Gm 3
Oct. 8
7:30 p.m.
CLE @ NYY
FS1
*Gm 4
Oct. 9
TBD
CLE @ NYY
FS1
*Gm 5
Oct. 11
TBD
NYY @ CLE
FS1
Before these clubs get underway in Cleveland, here are five key Statcast™ facts to know about this matchup:
1. The Yankees will have to break through against the Indians' top two starters
That, by the way, is no easy task. AL Cy Young Award contender Corey Kluber (18-4, 2.25 ERA, 265 strikeouts) and Carlos Carrasco (18-6, 3.29 ERA, 226 strikeouts) form one of the best 1-2 tandems of any postseason rotation this year, and both thrive on nearly unhittable offspeed arsenals.
Kluber's curveball (or slider, depending on whom you ask) may be baseball's nastiest pitch; he led the Majors with 141 strikeouts on the pitch this year. Carrasco, meanwhile, allowed a sub-.175 average against his curveballs, sliders and changeups. Together, Kluber and Carrasco finished first and third, respectively, in both swinging-strike-rate induced and batting average allowed on offspeed pitches. To give the Yankees even more headaches, Mike Clevinger — who is in the bullpen for Cleveland — tied Max Scherzer for fifth in swinging-strike rate on offspeed pitches.
Highest swinging-strike rate on offspeed pitches, SP, 2017
Min. 750 offspeed pitches thrown as a SP
1. Corey Kluber: 27.5 percent
2. Robbie Ray: 22.1 percent
3-T. Carlos Carrasco: 22.0 percent
3-T. Clayton Kershaw: 22.0 percent
5-T. Mike Clevinger: 21.8 percent
5-T. Max Scherzer: 21.8 percent
Lowest batting average allowed on offspeed pitches, SP, 2017
Min. 200 at-bats decided on offspeed pitches
1. Kluber: .108
2. Scherzer: .125
3. Carrasco: .151
4. Stephen Strasburg: .159
5. Zack Godley: .164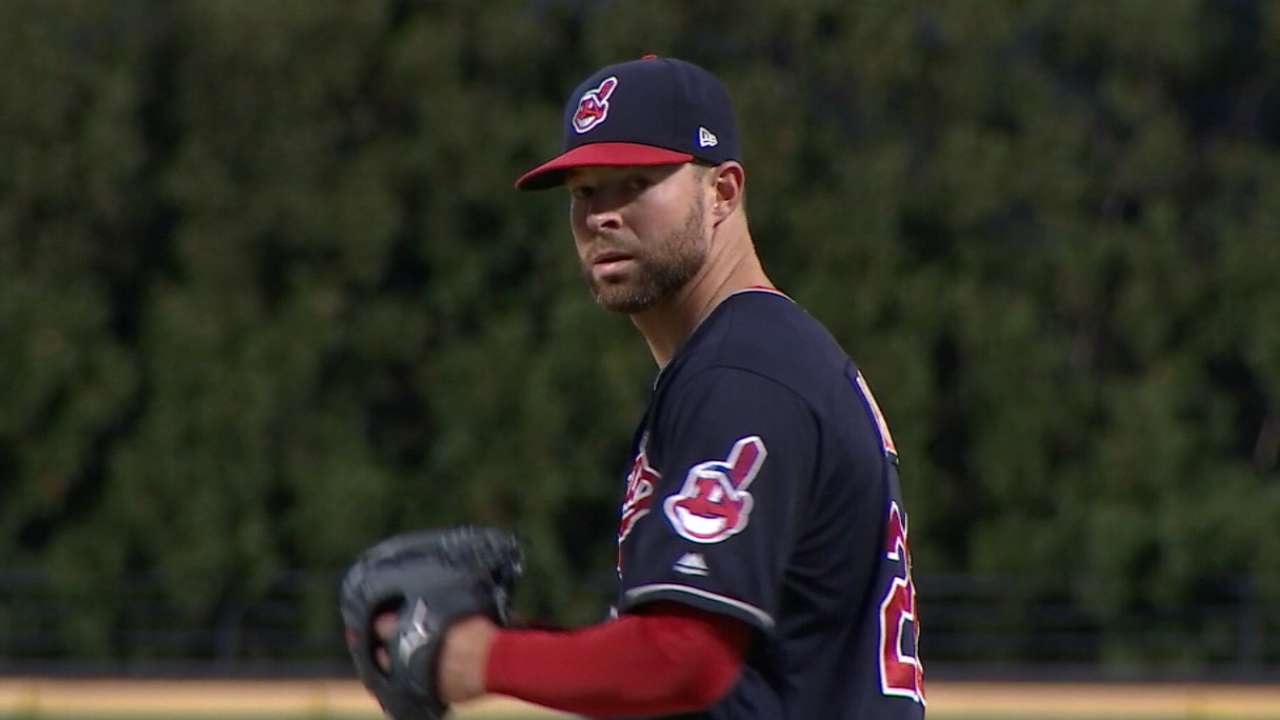 2. Aaron Judge and Gary Sanchez possess game-changing power
We already saw it in the AL Wild Card Game, when Judge's two-run homer off Twins pitcher Jose Berrios helped turn the tide in the Yankees' 8-4 victory. Judge and Sanchez combined to club three of the five longest home runs of the regular season, while also posting two of the Majors' five highest average exit velocities on homers in 2017 (Judge led the way with a 110-mph average). When these two connect, they not only put runs on the board, but they can do so with the kind of authority that can demoralize an opposing pitcher.
Longest home runs of 2017
1. Judge: 495 feet (June 11 vs. Orioles)
2. Sanchez: 493 feet (Aug. 22 vs. Tigers)
3. Joey Gallo: 490 feet (Sept. 17 vs. Angels)
4. Judge: 484 feet (Sept. 30 vs. Blue Jays)
5. Kennys Vargas: 483 feet (June 20 vs. White Sox)
Highest average exit velocity on home runs, 2017
Min. 10 home runs
1. Judge: 110.0 mph
2. Giancarlo Stanton: 109.3 mph
3-T. Nelson Cruz: 107.7 mph
3-T. Gallo: 107.7 mph
5. Sanchez: 107.3 mph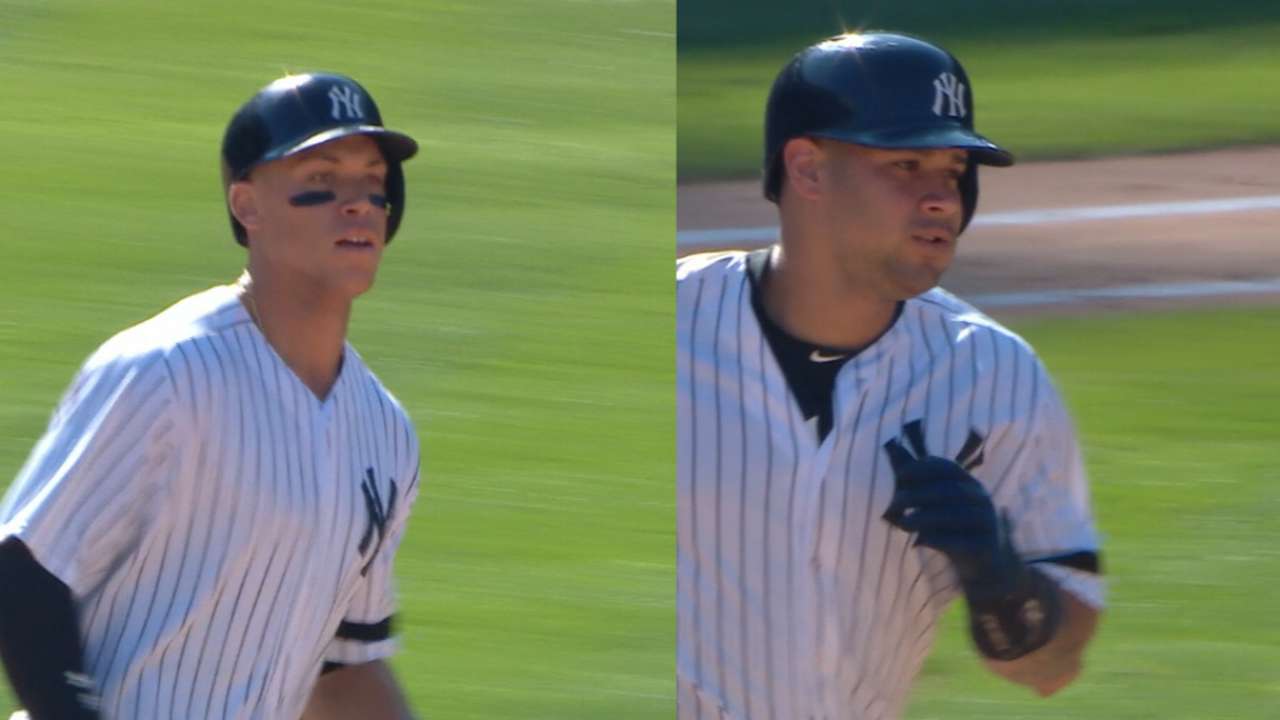 3. These teams could take "bullpenning" to a new level
The performance of the Yankees' relievers in the Wild Card Game, in which they combined to allow just one run over 8 2/3 innings, provided just a taste of what these two bullpens could showcase over the course of a longer series. New York relievers posted the highest average fastball velocity of any team's bullpen at 95.4 mph, well clear of the second-place Braves and Dodgers at 94.7 mph. Aroldis Chapman brings the most heat, but the Yankees feature four other relievers who finished among MLB's top 25 relievers in "finish" rate, or the rate of converting two-strike pitches into strike three with either a called or swinging strike.
Cleveland featured three of its own relievers on that top-25 list, led by Andrew Miller, who allowed the lowest batting average on sliders (.094) of any MLB pitcher.
Highest "finish" rate (called or swinging strike) in two-strike counts, RP, 2017
Min. 200 pitches thrown in two-strike counts
1. Dellin Betances: 32.2%
2. David Robertson: 30.8%
3. Kenley Jansen: 30.3%
4. Tommy Kahnle: 30.1%
5-T. Greg Holland: 30.0%
5-T. Craig Kimbrel: 30.0%
9. Miller: 28.5%
12-T. Cody Allen: 27.2%
14. Joe Smith: 26.8%
24-T. Chad Green: 25.6%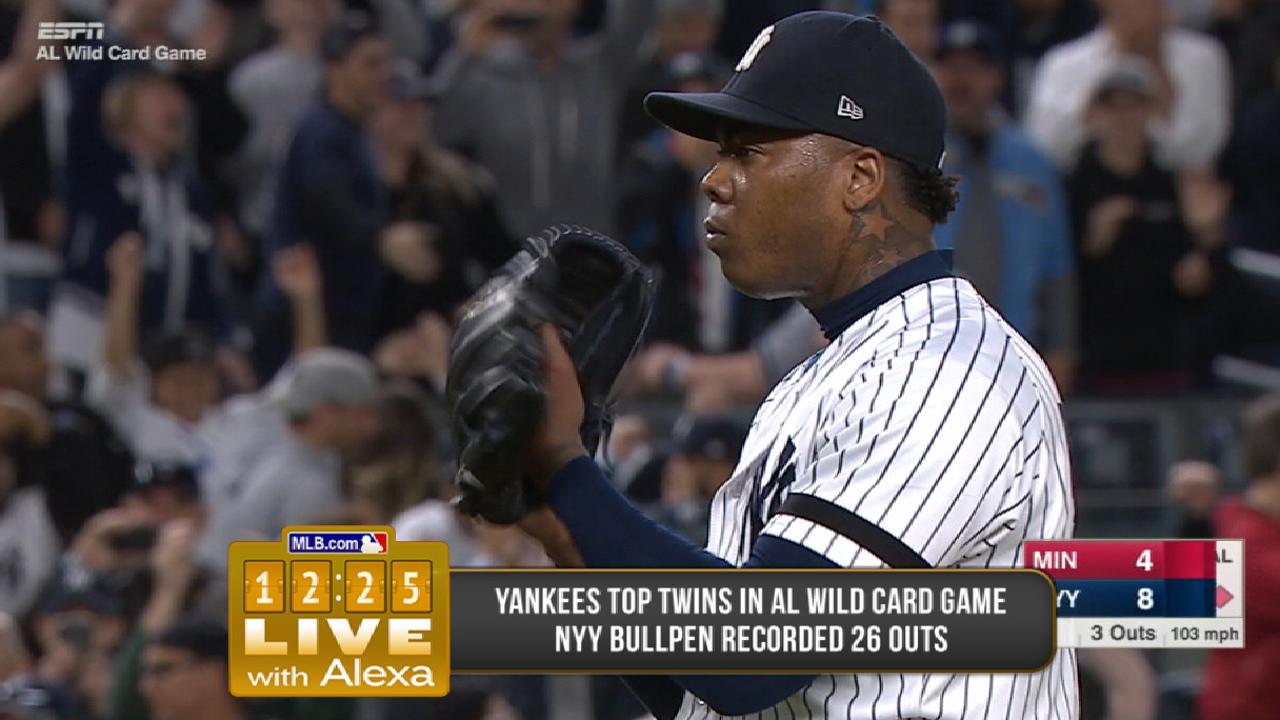 4. The Indians have a dynamic duo up the middle
Cleveland won a remarkable 33 of its last 37 games of the season — including an AL-record 22-game win streak — and while the Tribe's pitching staff nearly redefined the phrase "lights-out", Jose Ramirez and Francisco Lindor powered the offense. Ramirez became the first AL player in history to finish with at least 56 doubles, 29 home runs and six triples in a season, and he did the majority of his damage against fastballs. He'll be a fun matchup to watch against the Yankees' endless cavalcade of flame-throwers out of the bullpen.
Together, Ramirez and Lindor ranked among the best hitters at their positions in terms of putting hard-hit balls (those hit with exit velocities of at least 95 mph) into play, beginning at the start of the Indians' record win streak on Aug. 24 through the end of the regular season.
Highest slugging percentage vs. 95-plus-mph pitches, 2017
Min. 40 at-bats ending on 95-plus mph pitches
1. J.D. Martinez: 1.023
2. Ramirez: .851
3. Khris Davis: .797
4. Jose Martinez: .764
5. Yonder Alonso: .750
Highest hard-hit rate among 2B, since Aug. 24
Min. 100 balls in play
1. Ramirez: 44.6 percent
2. DJ LeMahieu: 41.2 percent
3. Jonathan Schoop: 39.8 percent
Highest hard-hit rate among SS, since Aug. 24
Min. 100 balls in play
1. Jean Segura
2. Lindor: 41.9 percent
3. Paul DeJong: 38.6%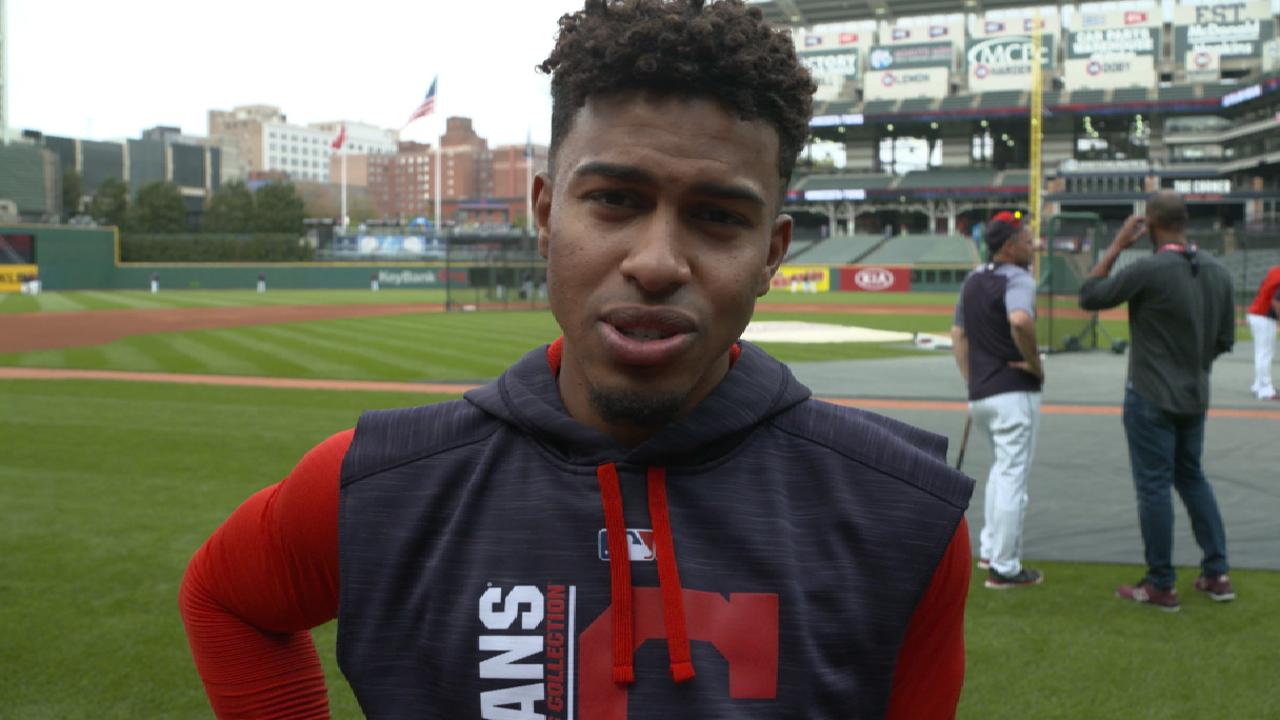 5. CC Sabathia could come up big against his former team
In his age-36 season and 17th campaign as a Major Leaguer, Sabathia's form wasn't all that far off from when he was a perennial Cy Young Award candidate a decade ago with the Indians. No left-handed starter allowed a lower average exit velocity than Sabathia at 83.9 mph. What's more, Sabathia also ranked among the game's five best lefty starters at repeatedly limiting the most dangerous contact from opponents. Batters were able to put hard contact on only 29 percent of their batted balls against Sabathia, which tied the veteran with Rich Hill for the fourth-lowest rate allowed among southpaws.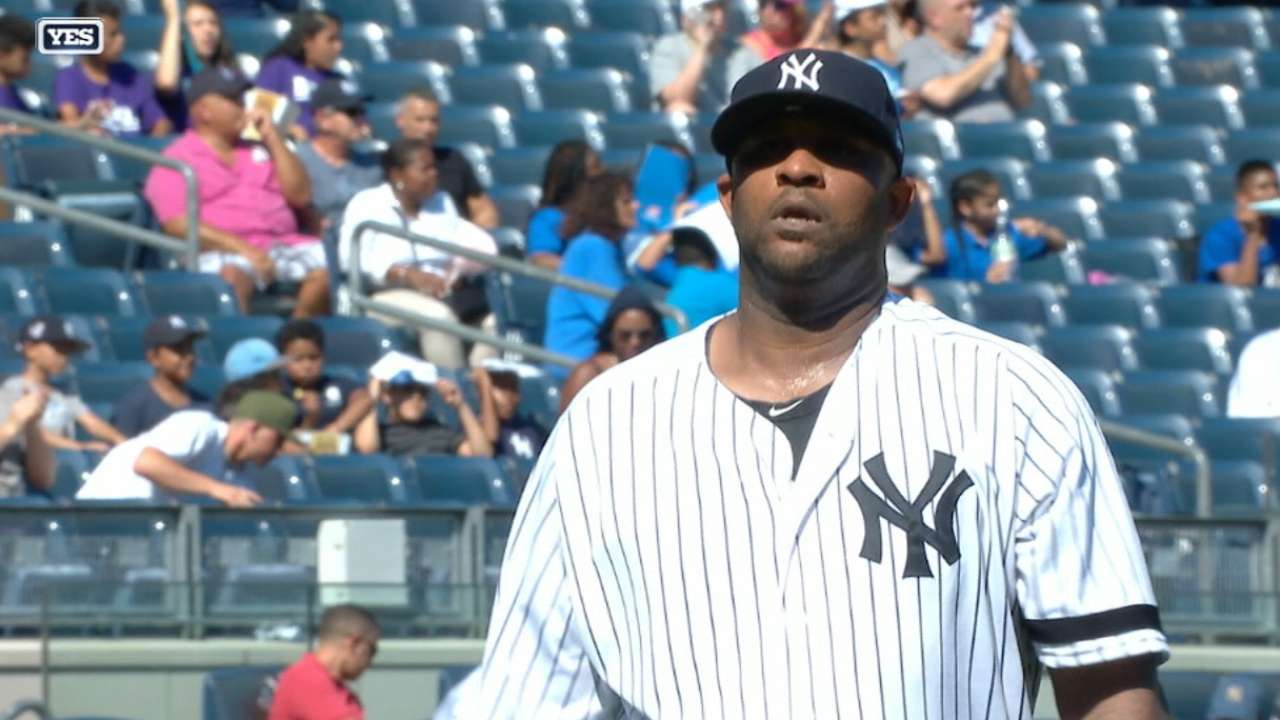 Lowest average exit velocity allowed by left-handed starters, 2017
Min. 300 batted balls
1. Sabathia: 83.9 mph
2. Hill: 84.3 mph
3. Dallas Keuchel: 84.5 mph
4-T. Kyle Freeland: 84.6 mph
4-T. Kershaw: 84.6 mph
Lowest rate of hard-hit balls (95-plus mph exit velocity) allowed by left-handed starters, 2017
Min. 300 batted balls
1. Kershaw: 26.5 percent
2-T. Gio Gonzalez: 27.9 percent
2-T. Alex Wood: 27.9%
4-T. Sabathia: 29.0 percent
4-T. Hill: 29.0 percent
Matt Kelly is a reporter for MLB.com based in New York. Follow him on Twitter at @mattkellyMLB. This story was not subject to the approval of Major League Baseball or its clubs.