Aaron Judge, Matt Holliday struggle with RISP
"It's just that part of the season. Everyone goes through it," Judge said. "You've just got to keep grinding. You're not going to feel 100 percent or be on your 'A' game 100 percent of the time. You've got to grind through those at-bats, get some hits and produce to help the team."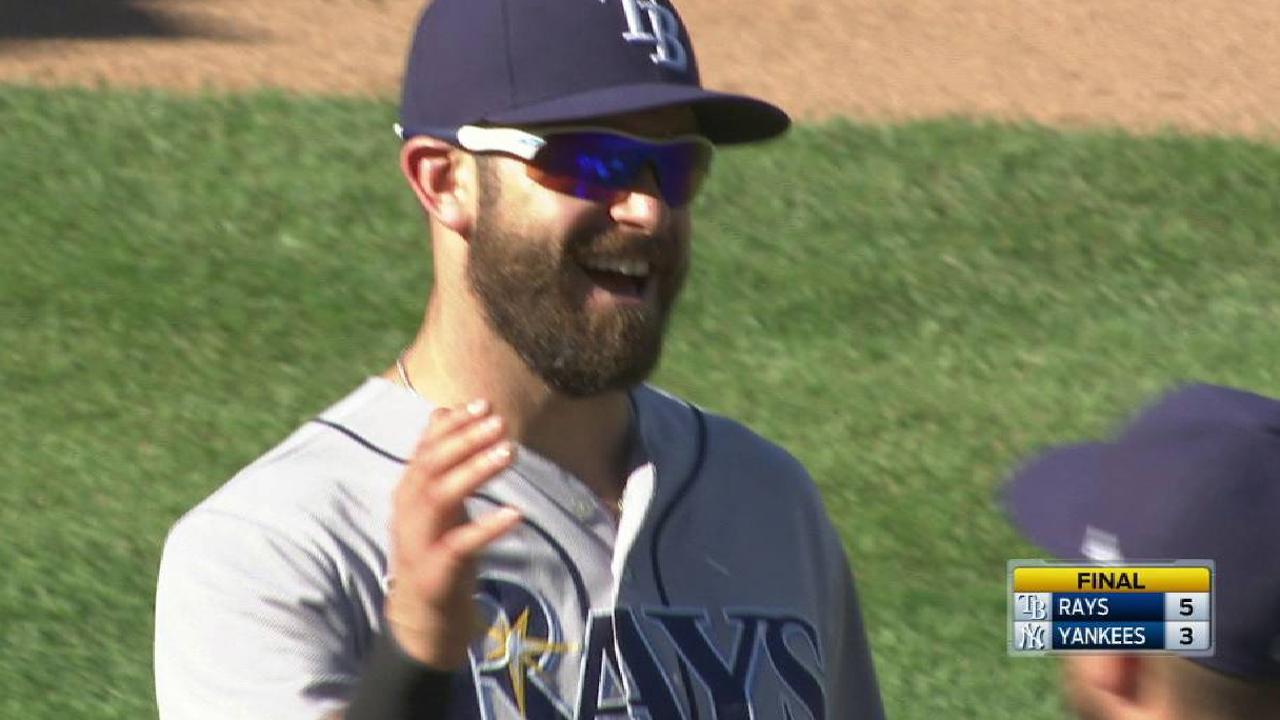 Judge said that he has not noticed a significant change in the way opponents are attacking him. While whispers about a so-called Home Run Derby curse do persist in outside circles, most agree that it is too simplistic to point to Judge's participation in what amounted to glorified batting practice.
"What has it been, 2 1/2 weeks?" Yankees manager Joe Girardi said. "There's a lot of guys that have tough months. I'm not going to make too much of it."
Girardi said that he has no plans to dislodge Judge from the No. 3 spot in the lineup. In 16 games since the break, the rookie slugger is 9-for-57 (.158) with three homers, eight RBIs and 25 strikeouts.
"I'm hitting .[302] in the big leagues with 33 homers," Judge said. "I feel good. Every single time I step to the plate, it's Opening Day. It doesn't matter what you did in the past. It's just about, what can I do this at-bat?"
The Rays took advantage in the fifth inning by pitching to Judge with first base open, something that would have been unthinkable when he was sparking Triple Crown discussion. Guarding a one-run lead, Sergio Romo got Judge to wave at three sliders, as the Yanks ultimately left two runners on.
"Go figure," Romo said. "With one swing of the bat from Judge, three runs could've come across real quick."
Holliday has been in an even more extended funk. In 16 games since returning from a viral infection that landed him on the disabled list, Holliday is just 9-for-66 (.136) with a homer, four RBIs and 19 strikeouts. He says that he feels at full strength, but hasn't been squaring the ball up.
"I had a couple of hits yesterday and felt pretty good about it," Holliday said. "It's just frustrating that you had an opportunity with some runners on base and not being able to get the job done. I'm not really looking at it more than today."
Judge keeps a note in his iPhone that reads, ".179" — his batting average in 84 at-bats for the Yankees last season — and said that he believes his current situation is "totally different" from what he went through then.
"It's just, you come to the ballpark, your swing doesn't feel 100 percent every day," Judge said. "Your body doesn't feel 100 percent. That's why only a few people can play this game. It's tough, it's a grind and we've just got to keep working and battling. The days you don't feel 100 percent, if you've got 80 percent, you've got to give it all 80."
Bryan Hoch has covered the Yankees for MLB.com since 2007. Follow him on Twitter @bryanhoch and on Facebook. This story was not subject to the approval of Major League Baseball or its clubs.