Brett Gardner, Matt Holliday matching homers
• Cast your Esurance All-Star ballot for Gardner, Holliday and other #ASGWorthy players
"Yeah, that little guy can hit 'em," Holliday said. "It's been fun to watch. When you have a guy up and down the lineup that can hit homers, that puts a lot of pressure on the other team. Having a guy that can start the game with a home run is a nice weapon.
"We've got a little competition going. It's kind of sad, considering I'm about 50 pounds heavier and much, much taller."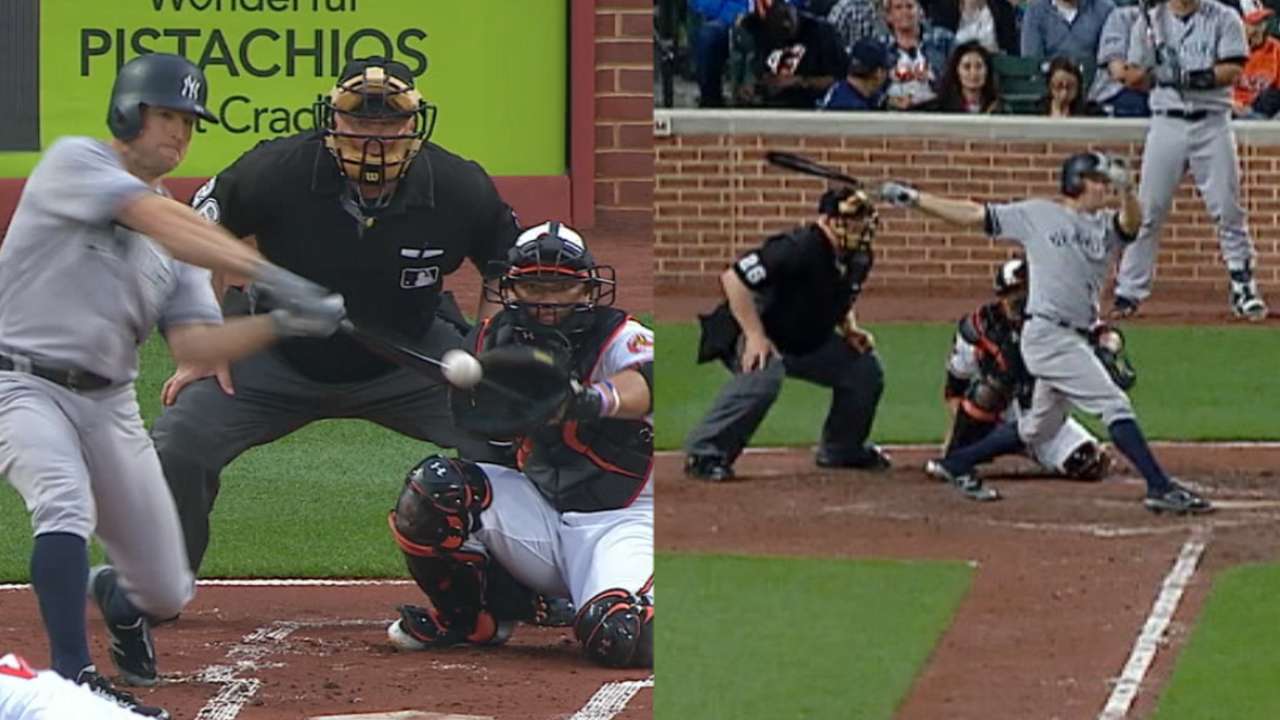 Gardner jumped on the third pitch he saw from Chris Tillman, belting his eighth career leadoff homer. Judge called Gardner "a little ball of muscle" and said that this surge was overdue.
"I'm just happy he's using it now, man," Judge said. "He's using his whole body, he's got a great swing and he's hitting for power. I was kind of tired of seeing him try to slap balls to start the game off. He's got a great swing, so I am glad he's up there at the top of the lineup and using it and hitting for power now."
Holliday homered off Tillman in the first and third innings, connecting with a slider and a fastball. Gardner responded in the fourth by ripping Logan Verrett's 3-1 heater over the right-field scoreboard. As he laughed from the dugout, Holliday said that Gardner "just stared at me all around the bases."
"We're right there neck and neck, but he's a big guy in the middle of the order, so I don't know how long I can hang with him," Gardner said. "We're just having fun. Guys are swinging the bats well. I'll try my best to keep up with those big guys."
Judge revealed that he and Gardner picked up a pattern while reviewing video of a similar count in one of Tillman's recent starts, which may have helped.
"He went fastball ball one, another fastball was 2-0, and the guy we watched hit a double off him third pitch," Judge said. "Gardy was like, 'Hey, I've got to stick to my plan. If it gets to 2-0, I'm sticking to my plan of trying to drive something over the plate.' He did it. I was pretty excited he had a plan, he went out there and he executed it, not only once but twice."
Gardner now has three multi-homer games this year (five for his career) while exceeding last year's total of seven homers, despite not hitting his first until April 29 against Baltimore. Gardner said that he is just taking advantage of good pitches to hit.
"I always tried or wanted to [drive the ball], but it's just a matter of mechanically everything syncing up and my approach and everything kind of working right and going together," Gardner said. "For the last four or five weeks, my balance has been really good, my timing has been pretty good."
Bryan Hoch has covered the Yankees for MLB.com since 2007. Follow him on Twitter @bryanhoch and on Facebook. This story was not subject to the approval of Major League Baseball or its clubs.