Khris Davis, Athletics beat Astros
"We're not really swinging the bats now," A's manager Bob Melvin said. "We score two runs, and you got a lineup that expects to score a bunch of runs. To pitch as well as he did, seven innings of work, pretty good."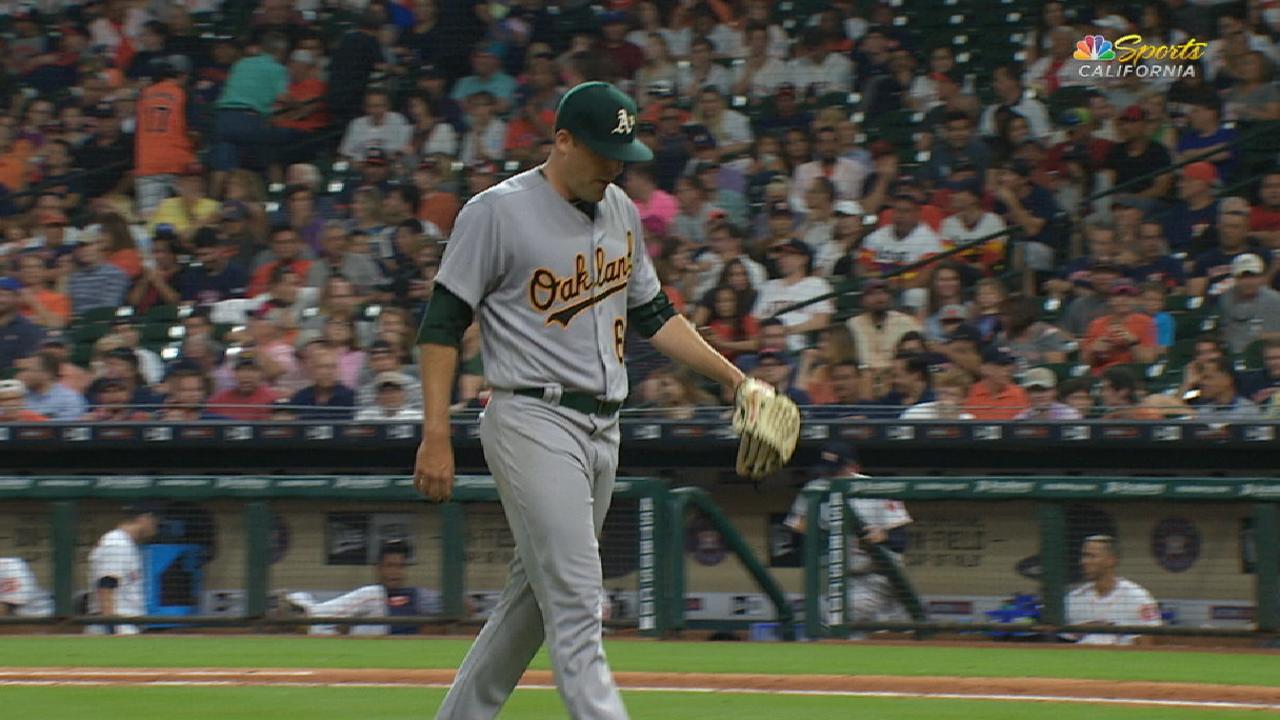 The Astros went 0-for-5 with runners in scoring position in the first four innings, stranding six baserunners and spoiling multiple opportunities to grab the early lead.
• Triggs sets career highs in victory
"They won virtually every big moment of the game," Astros manager A.J. Hinch said. "Credit to [Triggs] for pitching out of trouble in the first, third and fourth. They won the early innings, and that turned out to be the difference in the game. A lot of times we look at baseball, we only look at the last couple of innings. The reality is the game was won and lost in the first three innings tonight."
Houston starter Joe Musgrove, who was pulled with one out in the seventh after throwing 86 pitches, retired his first 10 batters before Lowrie homered to right-center in the fourth. Lowrie's second long ball of the year traveled 390 feet with a launch angle of 33 degrees, per Statcast™.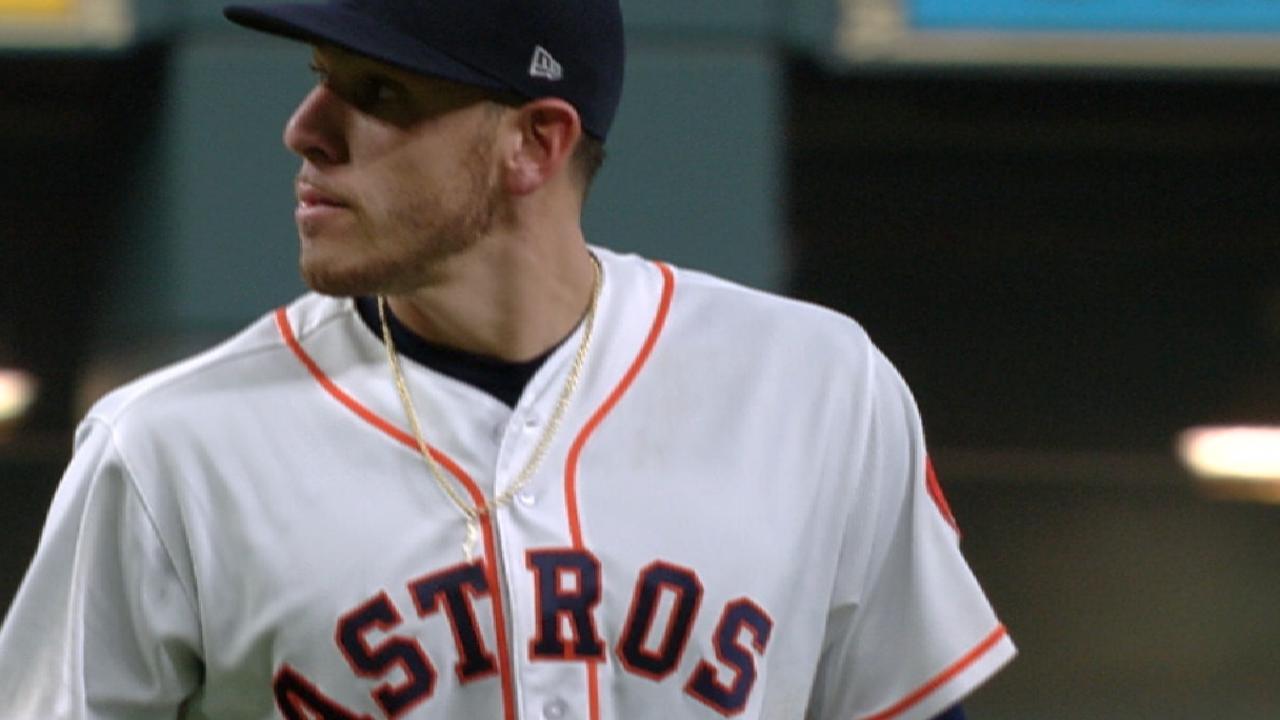 Lowrie's home run is the only run Musgrove has allowed in his last 11 1/3 innings, a streak dating back to Sunday's series finale against the Rays.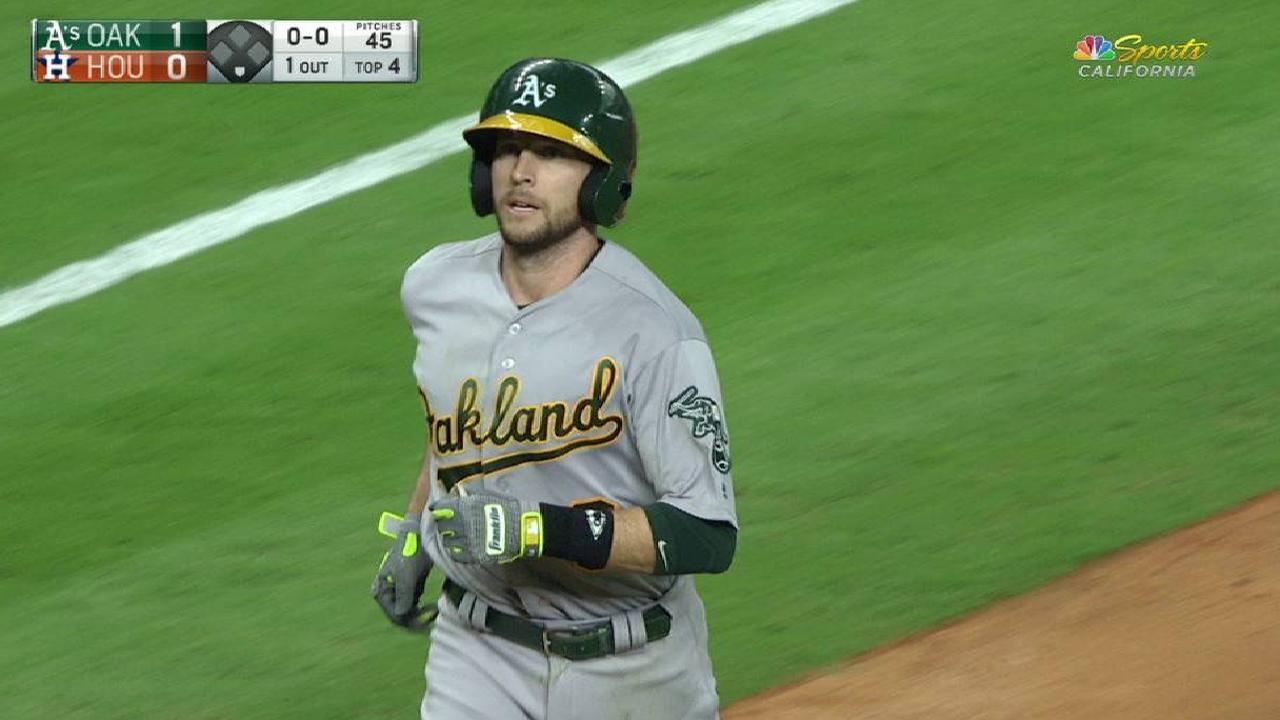 Davis' third homer of the series and his American League-leading 10th came in the eighth inning off Will Harris. It proved to be the game winner, traveling 373 feet with an exit velocity of 102 mph.
With Triggs out of the ballgame, the Astros capitalized to trim the deficit in the bottom half of the eighth on Jose Altuve's homer to left off reliever Sean Doolittle, which went an estimated 354 feet with a launch angle of 32 degrees.
MOMENTS THAT MATTERED
Decker's golden arm: Oakland right fielder Jaff Decker's laser nabbed Carlos Beltran at third base on a no-hop throw to complete a double play for the first two outs of the Houston fourth. Beltran was attempting to advance from second to third on a ball hit to right by Brian McCann. Trevor Plouffe applied the tag on Beltran. Evan Gattis followed with a two-out single to put runners on the corners before Alex Bregman struck out swinging to strand two runners.
"In close games, it's plays like that that really add up," Melvin said. "A big momentum shift."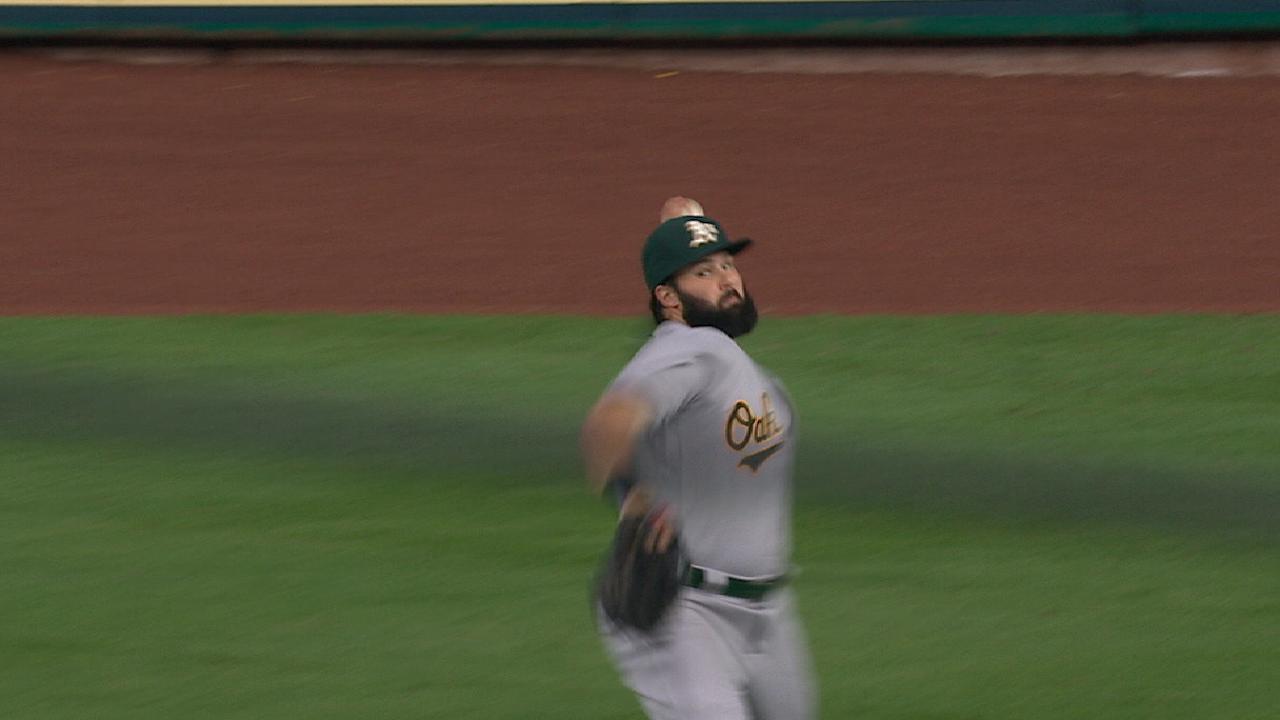 Correa, Beltran squander early chances: Houston's best chance to score off Triggs may have come in the opening frame when back-to-back singles from Josh Reddick and Altuve put runners on the corners with one out. But Carlos Correa and Beltran each struck out swinging to end the threat. It marked the only time all game that the Astros had a runner reach third with under two outs. Correa had another RBI chance in the third inning, but he grounded out to second base with two on and two out.
"He wants to be productive," Hinch said of Correa. "He's hitting in a great spot. He's had a couple moments in the last few games where he expanded the strike zone a little [too] late. I have the utmost faith in him. This kid is tremendous. He's working, and he's a good swing away from being the difference in a game. It might be tomorrow."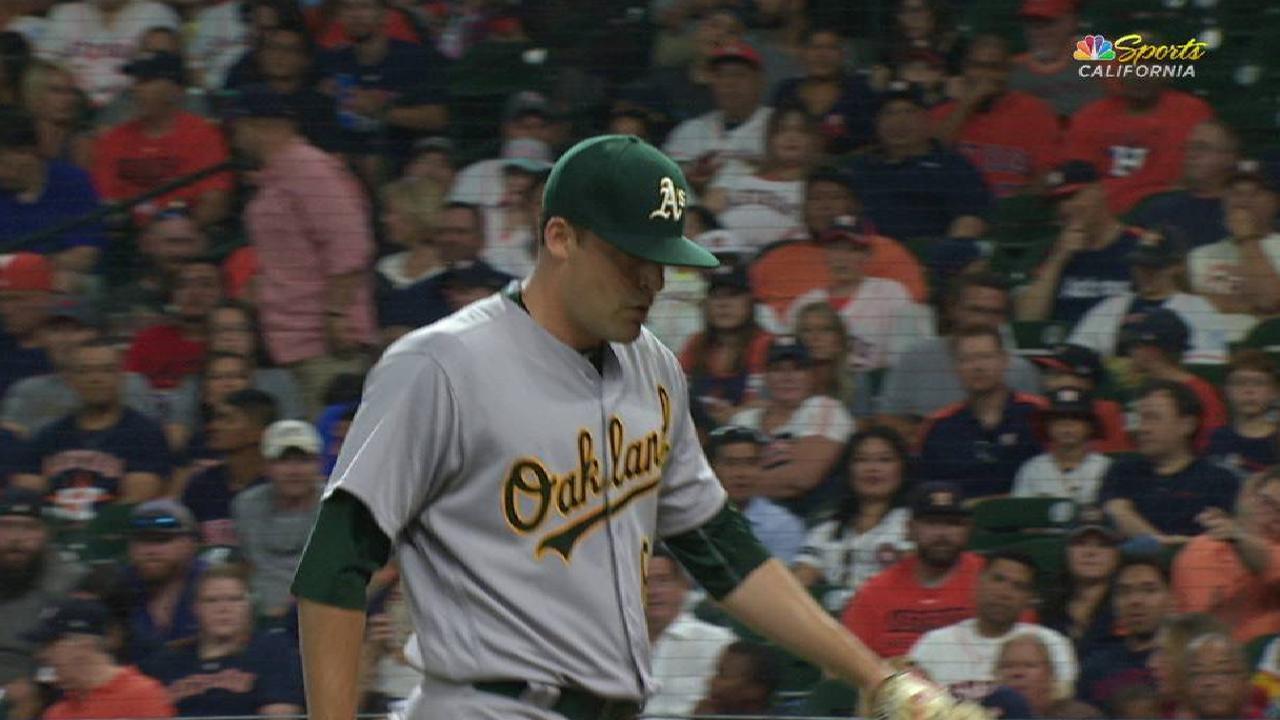 QUOTABLE
"I've just got to do a better job of executing a better pitch there. I didn't want to give in and try to fool him with breaking stuff. I wanted to challenge him with a fastball, and I just let it leak [over the] middle there. Other than that, I think it was a good game. I battled, our offense sure battled, but Triggs was really good tonight. Credit to him." — Musgrove, on Lowrie's homer, which came on a 3-0 count.
SOUND SMART WITH YOUR FRIENDS
Davis has homered in back-to-back games 15 times and twice this season (also April 14-15). The last A's player to hit 10 home runs in the team's first 24 games of a season was Nick Swisher (10 in 2006).
REPLAY REVIEW
Astros manager A.J. Hinch unsuccessfully challenged a call at third base in the fourth inning. Beltran tried to advance from second to third on a McCann flyout to right field, but a great throw from Decker beat Beltran to the bag. Beltran thought the swipe tag from third baseman Plouffe missed him, but the original out call stood — as no replay angle appeared conclusive.
"I think the third baseman knew he didn't tag him, I think Beltran knew he didn't tag him and [third-base coach] Gary Pettis knew he didn't tag him," Hinch said. "We didn't have a good camera angle, and the umpire saw it differently. I'm not mad at replay, I'm sort of mad at the first call, which can happen. We just didn't have an angle, apparently, to definitively say he didn't tag him. There's no player or coach reaction in that play that suggests that he tagged him, and that's why I challenged it. We felt we had a good opportunity to have first and third there, but obviously New York disagreed."
Hinch had better luck, however, on a challenge at first base in the ninth inning. With a runner on first and none out, Yuli Gurriel hit an infield chopper that was initially ruled a double play after a quick turn from second baseman Lowrie. But replay showed that Gurriel barely beat the throw, and he was awarded first base as the potential tying run.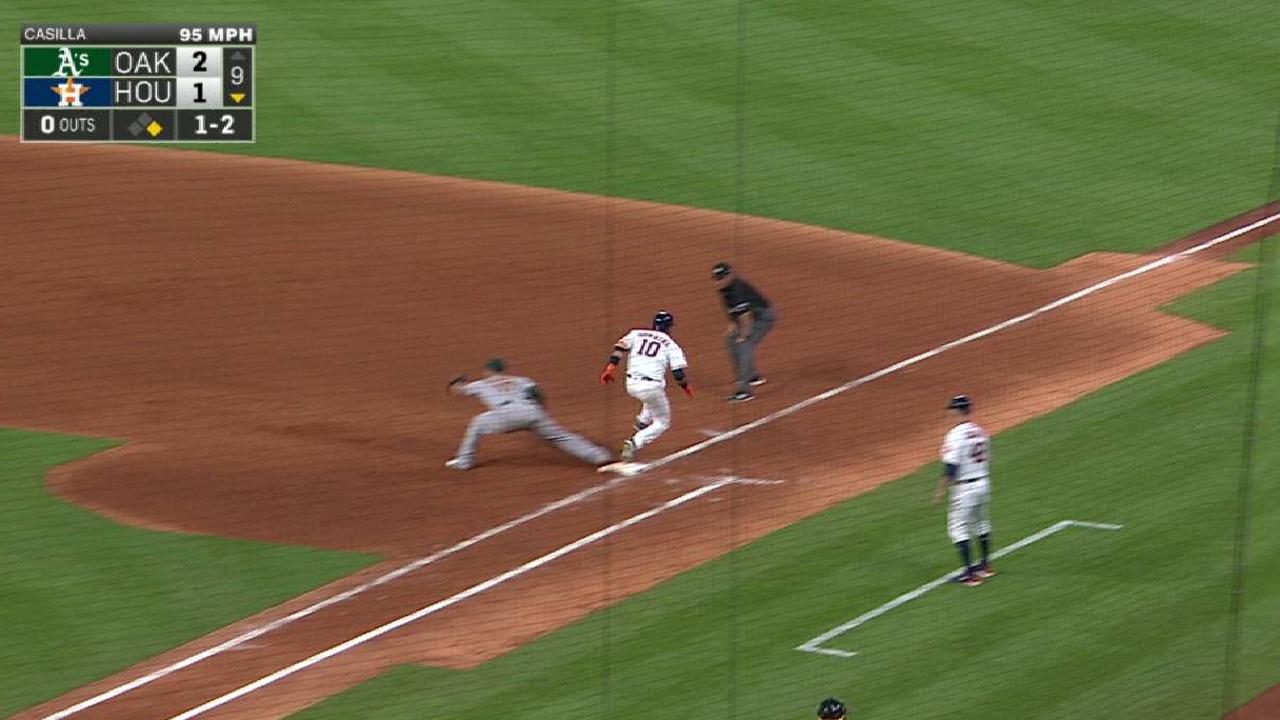 WHAT'S NEXT
A's: Coming off a no-decision in which he allowed just one hit over eight innings against the Angels, Jesse Hahn is scheduled to make his fifth appearance (fourth start) at 11:10 a.m. PT on Sunday. Hahn is 1-2 with a 6.75 ERA in three career starts against Houston.
Astros: Ace Dallas Keuchel starts at 1:10 p.m. CT on Sunday. He has gone at least seven innings in each of his first five outings, and the 2015 AL Cy Young Award winner is coming off a complete-game 4-2 win at Cleveland.
Watch every out-of-market regular-season game live on MLB.TV.
Richard Dean is a contributor to MLB.com based in Houston and covered the A's on Saturday.
Ben DuBose is a contributor to MLB.com based in Houston and covered the Astros on Saturday.
This story was not subject to the approval of Major League Baseball or its clubs.