MLB Pipeline's All-Arizona Fall League Team
Here is a lineup of prospects who impressed the most in this year's Fall League as MLBPipeline.com's All-AFL Team:
C: Sean Murphy (Athletics No. 11 prospect)
There were many strong performances from rising catching prospects this fall, but no backstop improved his stock quite like Murphy. The 2016 third-rounder fared well at the plate, hitting .309 with a .413 OBP, and he drew raves for his plus arm strength as well as his big-league-caliber catch-and-throw skills, the combination of which enabled him to cut down 11 of 18 attempted basestealers.
Runner-up: Will Smith (Dodgers' No. 8)
1B: Josh Naylor (Padres' No. 10)
Naylor, 20, struggled down the stretch in his first taste of Double-A but got back on track in the Fall League, where he paced all primary first basemen in average (.304), hits (24), home runs (three) and doubles (six). He wrapped up his fall by hitting in five straight games for the AFL champion Peoria Javelinas.
Runner-up: Billy McKinney (Yankees' No. 23)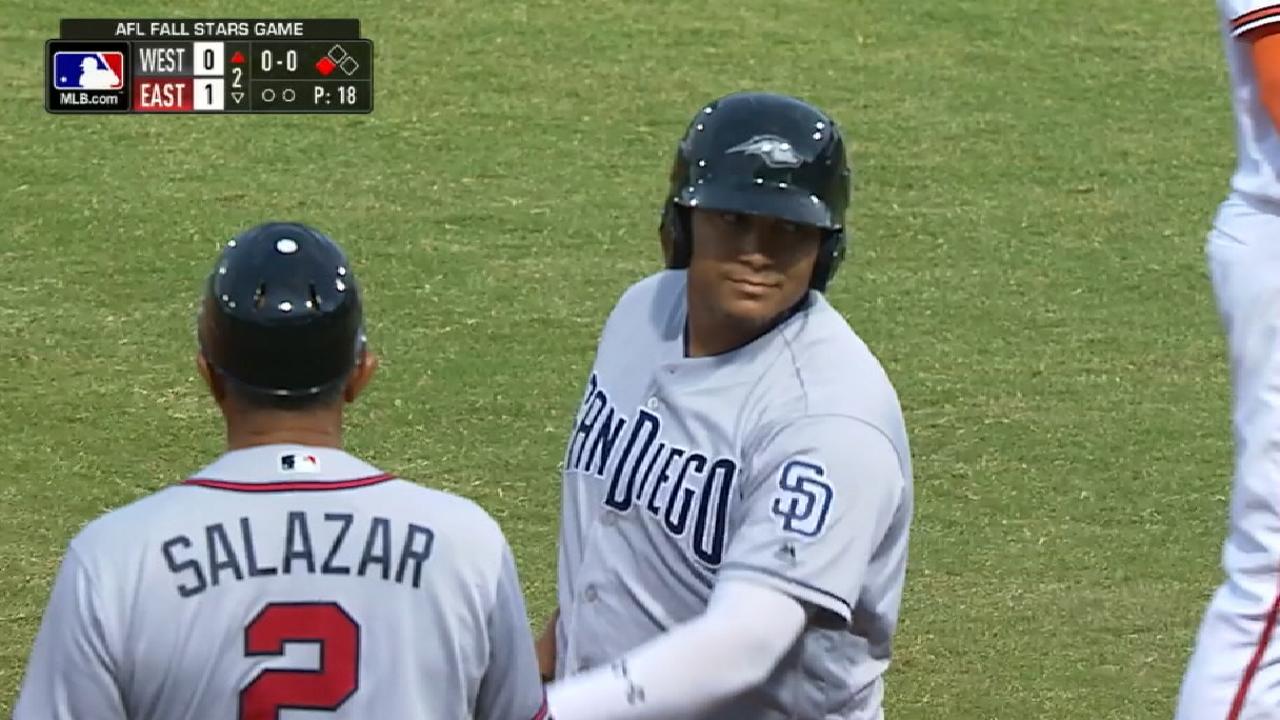 2B: Luis Urias (Padres' No. 3)
Urias, MLBPipeline.com's No. 48 overall prospect, has surpassed expectations at every stop thus far in his career, and the 20-year-old middle infielder furthered that trend this fall as he slashed .315/.443/.481 with seven extra-base hits and nearly three times as many walks (14) as strikeouts (five) for Peoria. He was particularly dynamic in the circuit's annual Fall Stars Game, connecting on a booming solo home run and making several highlight-reel plays on the infield.
Runner-up: Kody Eaves (Tigers)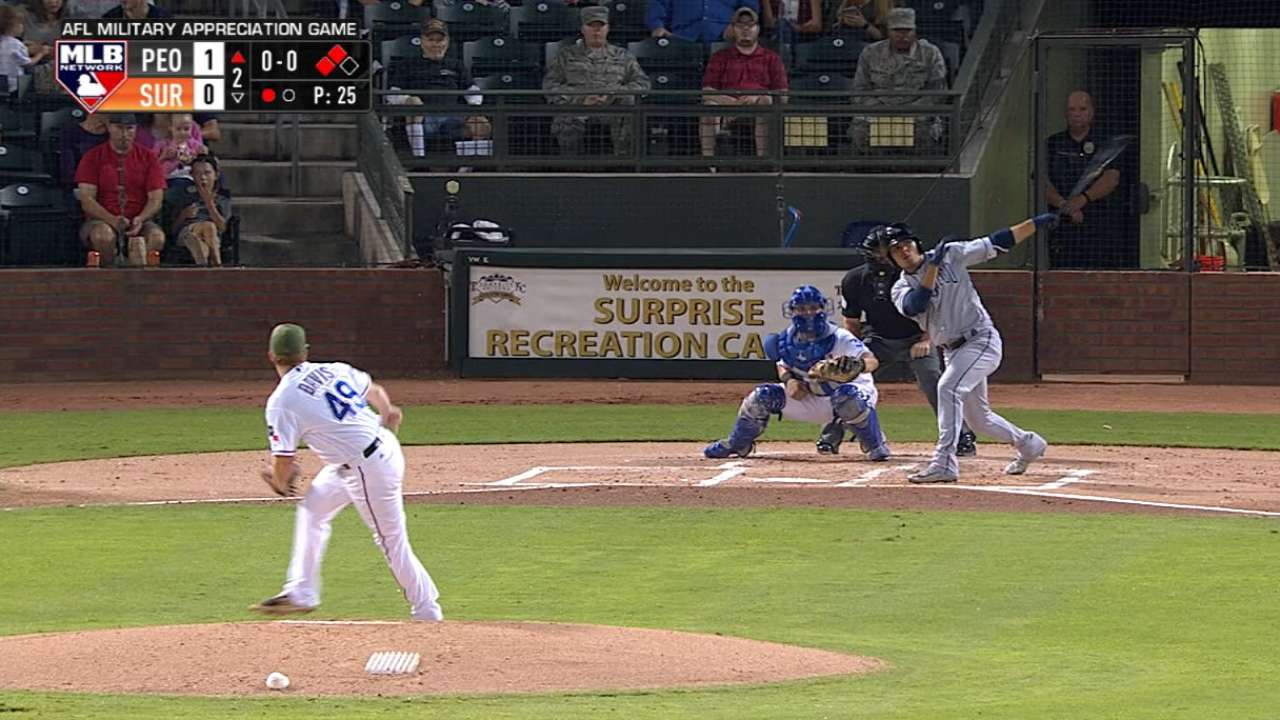 3B: Austin Riley (Braves' No. 10)
One of three Braves prospects to make the All-AFL Team, Riley homered three times in his final nine games for Peoria to finish with six home runs, good for a share of second in the league. Strikeouts remain a problem for the 20-year-old third baseman, though that didn't preclude him from slashing .300/.364/.657 en route to the AFL's third-best OPS (1.021).
Runner-up: Michael Chavis (Red Sox's No. 2, No. 92 overall)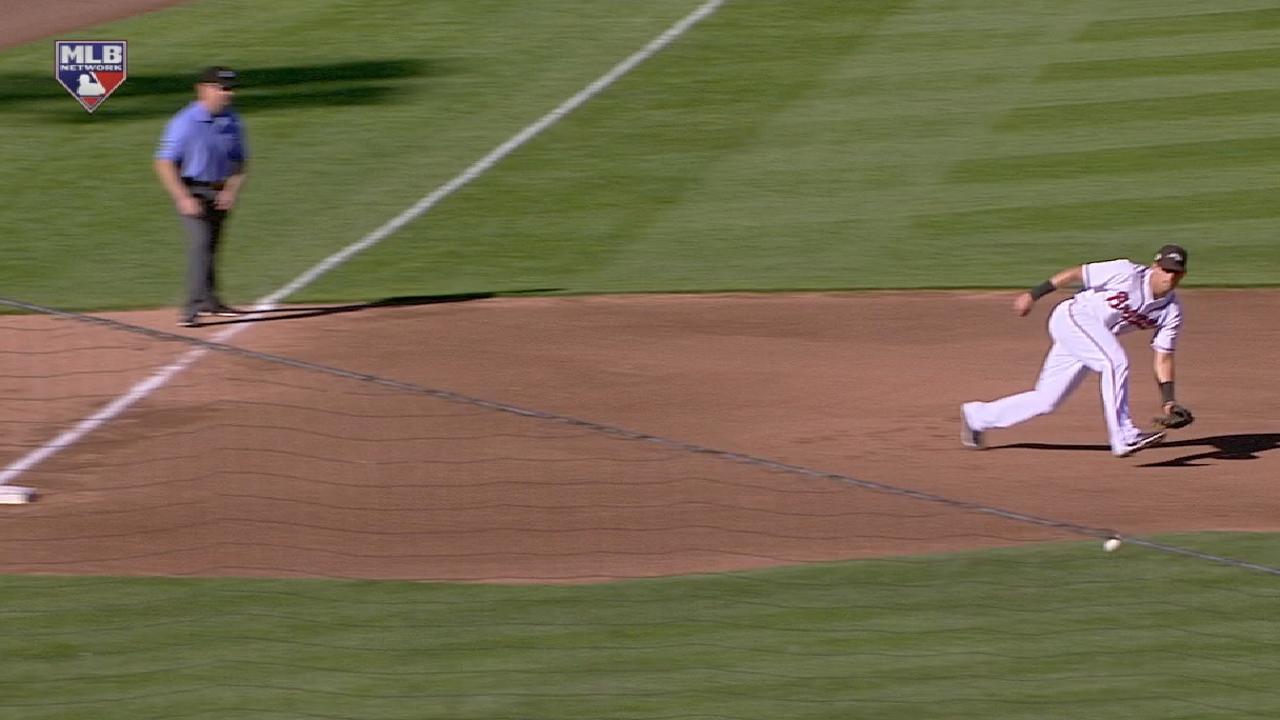 SS: Nicky Lopez (Royals' No. 11)
Lopez, 22, was a model of consistency throughout the Fall League. He was the runner-up in the AFL batting race (.383), finished tied for the lead in hits (31) and, thanks to nine extra-base hits, ranked fourth in slugging (.568). Defensively, Lopez exhibited daily that he has the hands, range and plus arm strength needed to stick at shortstop for the long haul.
Runner-up: Thairo Estrada (Yankees' No. 17)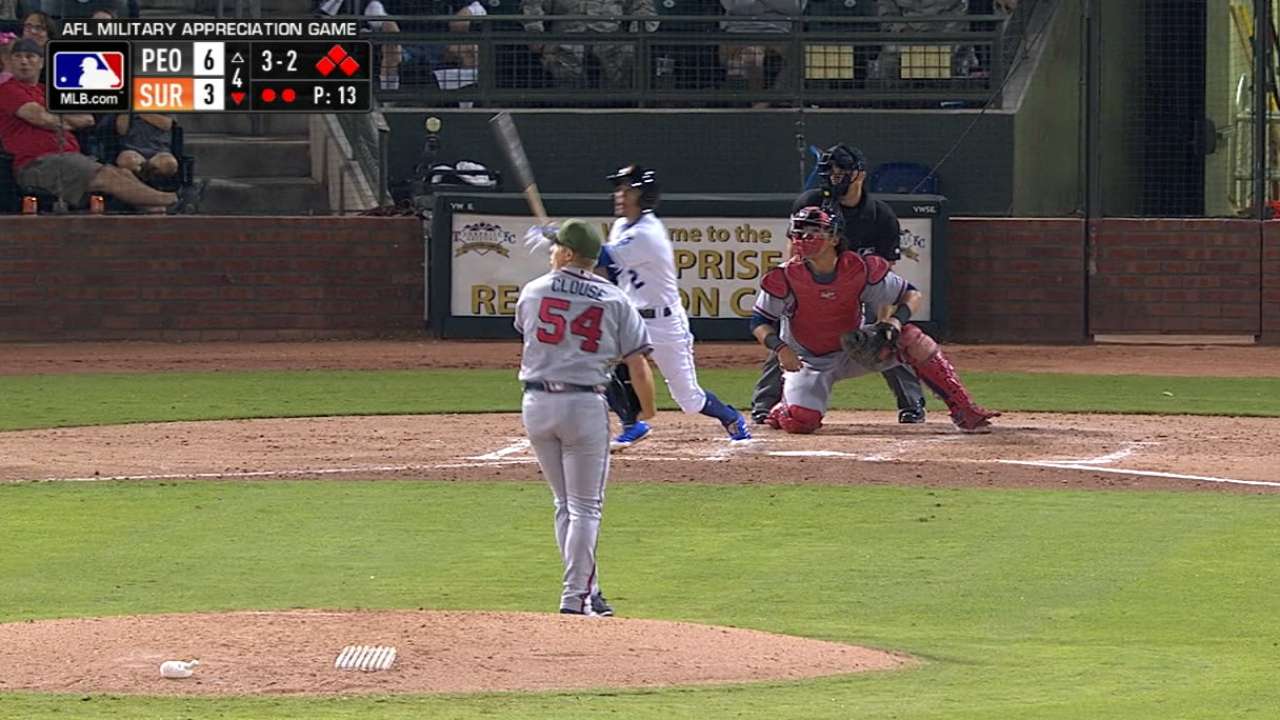 OF: Ronald Acuna (Braves' No. 1)
The No. 5 overall prospect put a bow on his remarkable 2017 season as he garnered AFL MVP honors after slashing .325/.414/.639 and pacing the league in home runs (seven), runs scored (22) and total bases (53). It was a fitting end to the season for the 19-year-old after he batted .325/.374/.522 with 21 homers and 44 stolen bases in 139 games across three levels to claim MLBPipeline.com's Hitting Prospect of the Year award.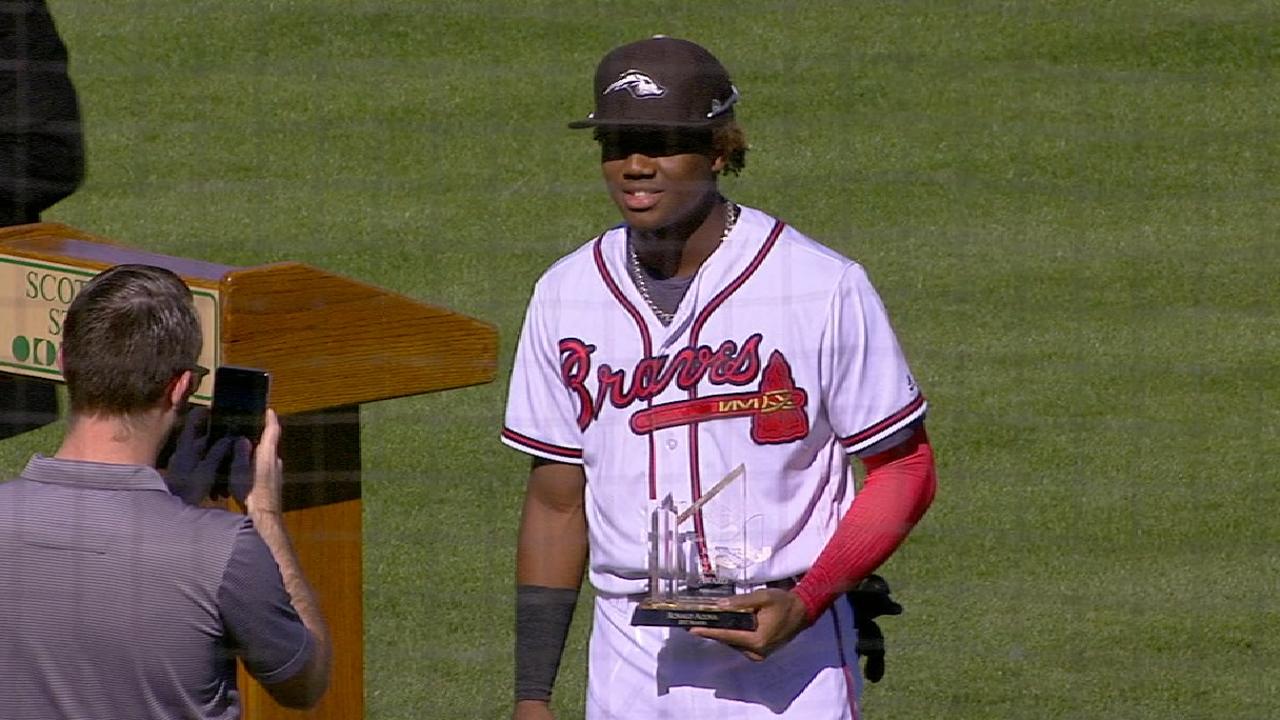 OF: Eric Filia (Mariners' No. 23)
A largely unknown prospect despite hitting .326 with a .407 OBP in his first full season, Filia, a 20th-round Draft pick in 2016, put himself on the map this fall by winning the AFL batting tile (.408) and leading the league in OBP (.483) and OPS (1.088). The 25-year-old also received the AFL's Dernell Stenson Sportsmanship Award.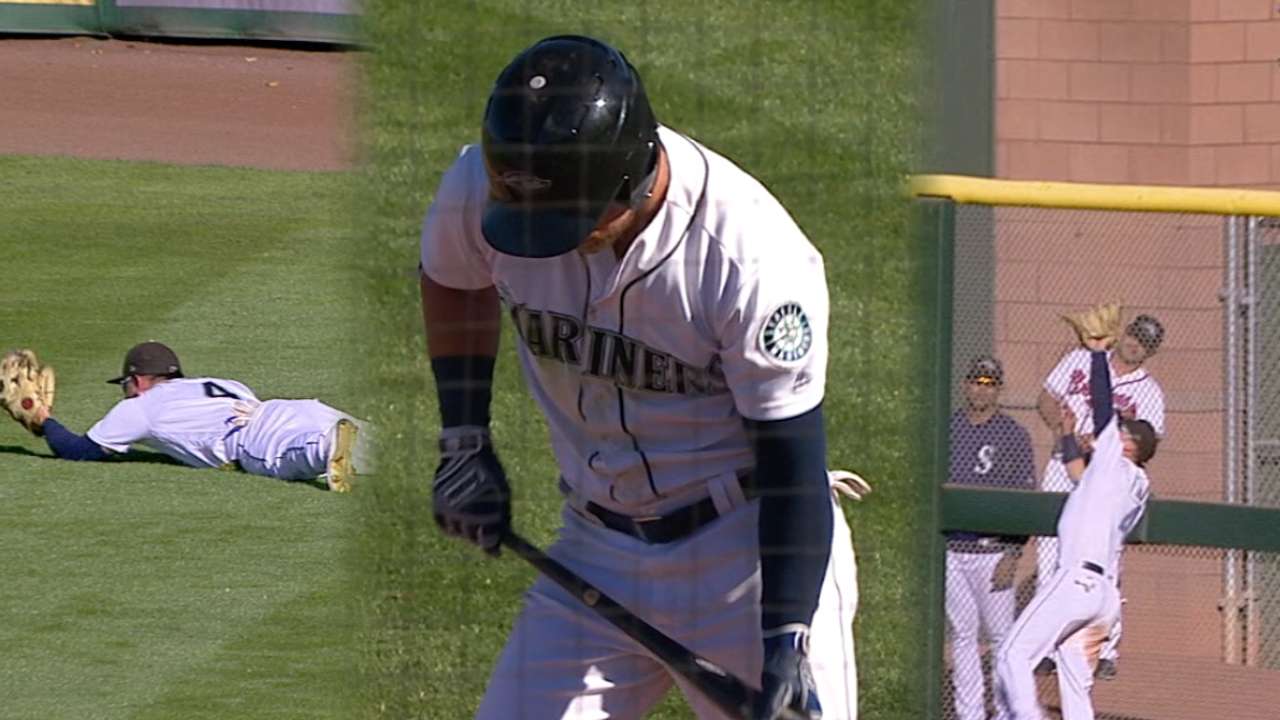 OF: Monte Harrison (Brewers' No. 14)
Harrison may have been part of Salt River's taxi squad, but the tooled-up outfielder certainly made the most of his somewhat limited opportunities. Coming off a 21-home run/27-steal season across two A-ball levels, the 22-year-old continued to flash his power-speed combo in the AFL by tallying five homers and five steals while slashing .285/.333/.604 in 13 games.
Runners-up: Victor Robles (Nationals' No. 1, No. 2 overall), Jonathan Davis (Blue Jays), Braxton Lee (Marlins)
DH: Sheldon Neuse (A's No. 14)
Acquired from the Nationals in July, Neuse, 22, was one of the more productive hitters this fall as he led the circuit in RBIs (23), ranked second in runs scored (20) and total bases (49) and finished tied for third in home runs (five). Primarily a third baseman, Neuse also proved more than passable defensively during his four starts at shortstop for Mesa.
Runner-up: Andrew Knizner (Cardinals' No. 27)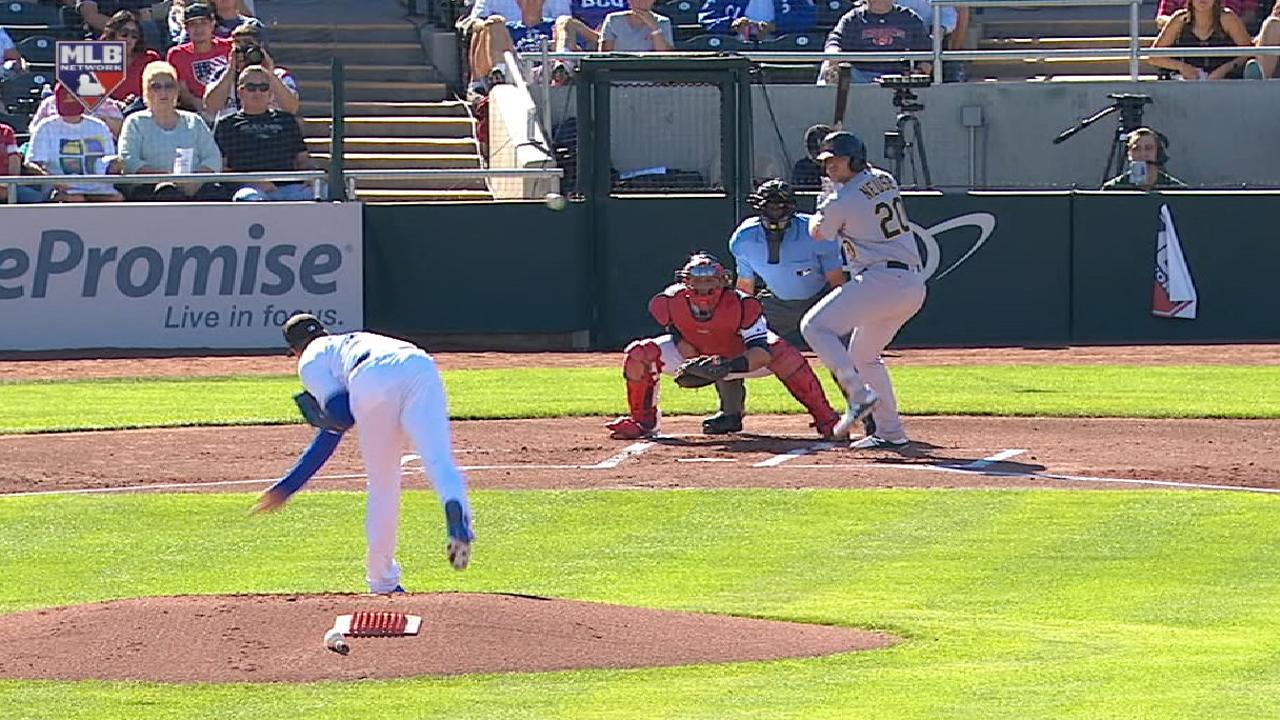 SP: Max Fried, LHP (Braves' No. 9)
Fried looked every bit the Major League pitcher this fall as he led all qualified starting pitchers in strikeouts (32 in 26 IP) and ranked second in both WHIP (0.88) and ERA (1.73). The 23-year-old southpaw ultimately allowed one or few earned runs in five of his six starts for Peoria, including four scoreless outings, and overall he held hitters to a paltry .163 average.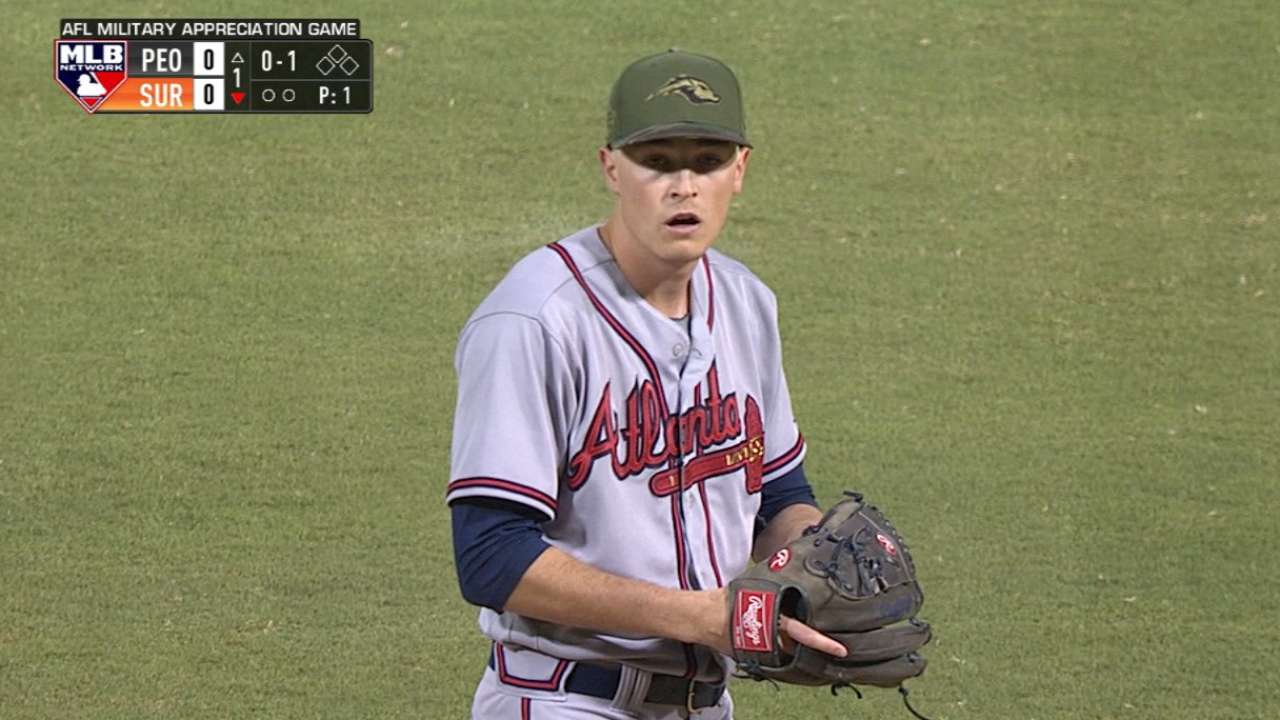 SP: Mitch Keller, RHP (Pirates' No. 2)
Keller, No. 18 on the Top 100, recorded a Fall League-best four wins (4-0) in his six starts while posting a 1.52 ERA that paced all qualified starting pitchers. The 21-year-old ultimately allowed one or fewer earned runs in five of his six turns for Glendale, and only once did he yield more than three hits.
Runner-up: Justus Sheffield, LHP (Yankees' No. 4, No. 79 overall)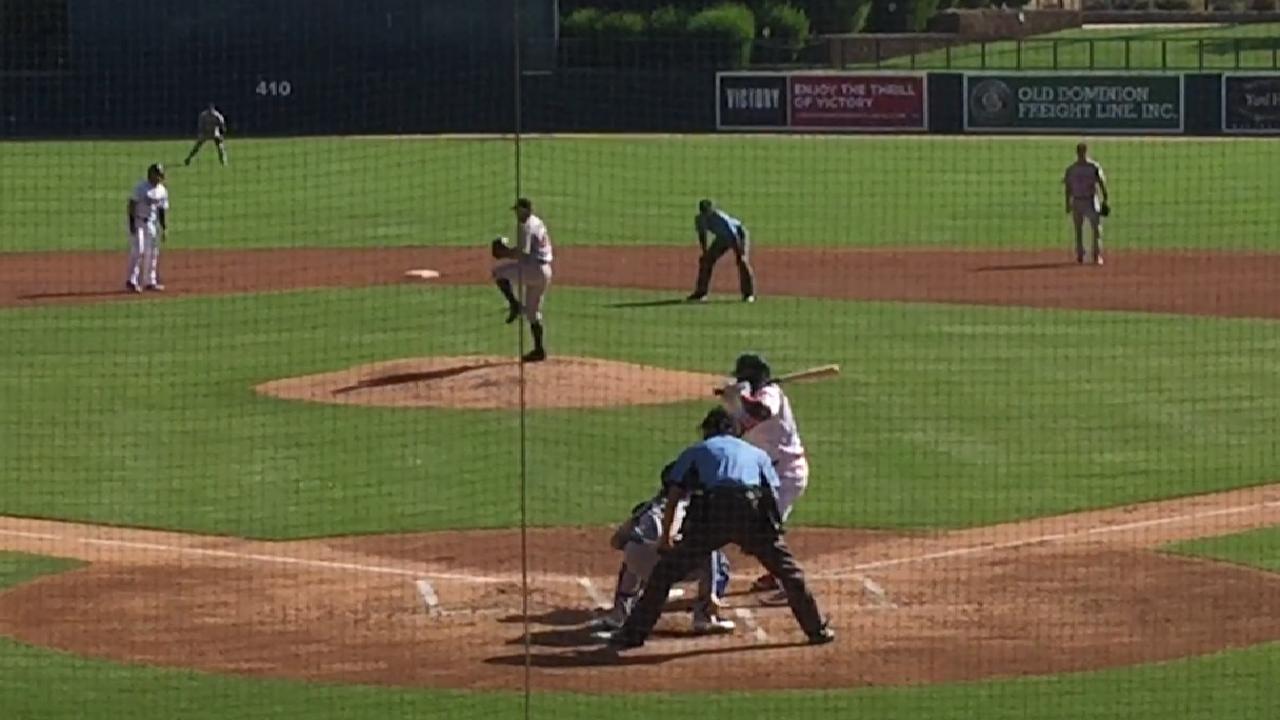 RP: Cody Carroll, RHP (Yankees)
A 22nd-rounder in 2015, Carroll blossomed in '17 with a full-time move to the bullpen, thus setting the stage for his breakout performance in the Fall League. Behind a fastball that was consistently 96-99 mph and a hard slider, both of which he masks with natural deception, the 25-year-old reliever didn't permit a run in 11 2/3 innings, allowing only two hits (.056 BAA) and striking out 18 while also pacing the circuit with four saves.
Runner-up: Art Warren (Mariners' No. 17)
Mike Rosenbaum is a reporter for MLB.com. Follow him on Twitter at @GoldenSombrero. This story was not subject to the approval of Major League Baseball or its clubs.