Yankees' Gary Sanchez will catch in playoffs
"Catchers are going to have bad days," Girardi said. "He got the crap beat out of him [Thursday]. Everyone wants to focus on the two balls that maybe got by him. What about the 12 or 14 that he did block? He got hit in the neck, he got hit in the shoulder. I've been asked the question, 'Do you catch Romine with Severino on Tuesday?'
"Just by chance, take a look at the ERAs with the catcher and what this kid has done with Severino. So this is my catcher. I am happy with the progress that he's made. Will he make more progress? Absolutely. He's young. This kid has really made a lot of progress, and you're going to have a bad day every once in a while as a catcher."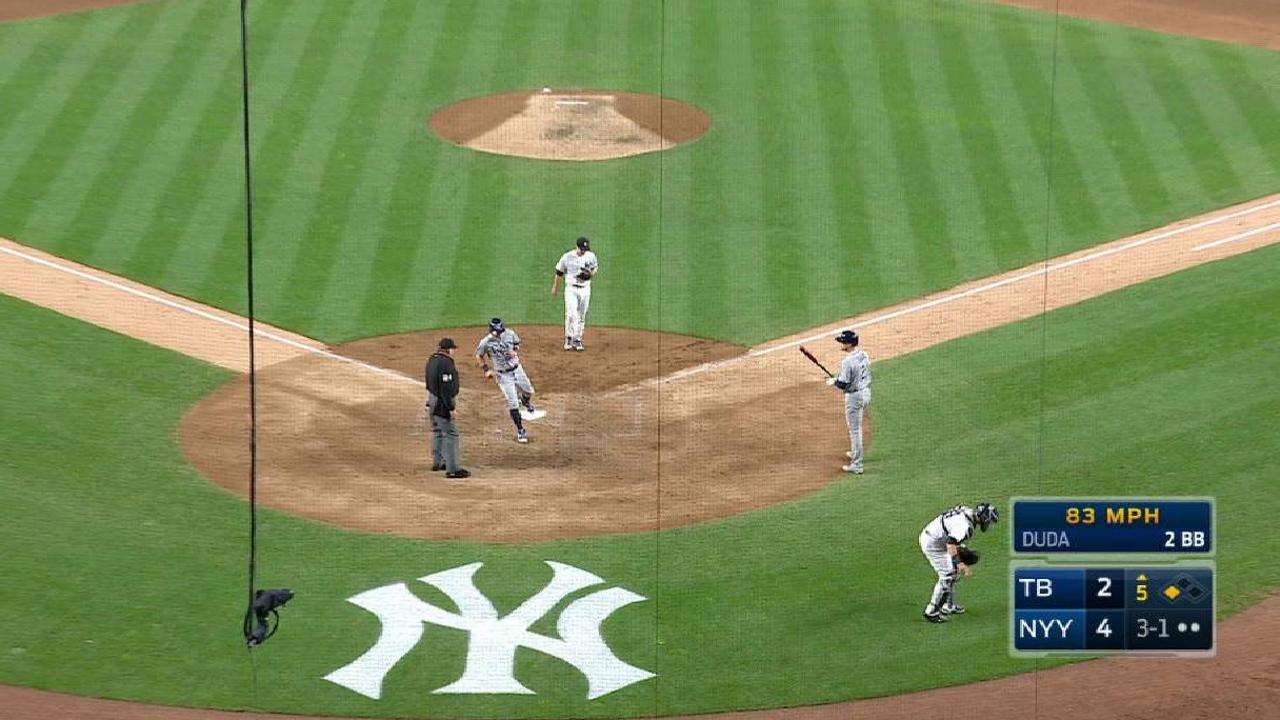 Should the Yankees play the AL Wild Card Game, Severino would start on Tuesday against the Twins at Yankee Stadium. This year, Severino has made 22 starts with Sanchez, allowing 44 earned runs in 138 2/3 innings for a 2.86 ERA. In nine starts with Romine, Severino has allowed 20 earned runs in 54 2/3 innings for a 3.29 ERA.
"I think one of the things for Sanchy is he's been with [Severino] for so many years," Girardi said. "He's very familiar with him. He's another guy that can throw a ball 99 [mph] and miss his spot, and he's another guy that can throw his slider in the dirt. I think because he's been around him so much, it makes it easier."
Sanchez leads the Majors with a combined 67 wild pitches and passed balls allowed, but his arm and framing have balanced out that performance, as Defensive Runs Saved rates him as a +1 backstop. That's tied for 23rd out of 50 catchers with at least 400 innings caught this season.
After an Aug. 4 game in Cleveland, Girardi publicly stated that Sanchez's defense "needs to improve, bottom line," frustrated after watching a passed ball and two wild pitches sail by the catcher in a 7-2 loss to the Indians. Girardi said that he was offering an honest assessment of Sanchez's play at the time, and he said that he has been pleased by Sanchez's response.
"He took it upon himself and has worked very hard to improve," Girardi said. "Again, we don't necessarily have the easiest guys to catch in the world. You've got guys throwing 100 [mph], and if they miss their spot, it's not always easy, or you've got breaking balls that are extremely sharp.
"I've talked to him about how important he is to our club. I know he's got a great bat, but his defense is really important too. I'm proud of the improvements he's made, and again, I think he's even going to get better as time goes on."
Bryan Hoch has covered the Yankees for MLB.com since 2007. Follow him on Twitter @bryanhoch and on Facebook. This story was not subject to the approval of Major League Baseball or its clubs.