Yankees' Jordan Montgomery impressive in start
Montgomery succeeded, striking out five and walking just two over six innings, but his teammates squandered some key moments in a 2-1 defeat at PNC Park.
In the early innings, Montgomery found himself getting into and out of trouble with minimal damage. He loaded the bases with no outs in the first inning, but David Freese's sacrifice fly produced just one run. In the second, Pirates' veteran catcher Chris Stewart hit his first Major League triple, but he stayed at third base when pitcher Ivan Nova struck out and Jordy Mercer grounded out.
Montgomery walked Andrew McCutchen to start the third inning, and he gave up a double to Gregory Polanco to make it 2-0. Then he retired Freese on a ground ball and struck out Jose Osuna. Double plays in each of the fourth, fifth and sixth innings kept the Pirates at bay.
"I've been like this my whole life," said Montgomery, a native South Carolinian. "It's nothing new. That's really when you just got to buckle down and compete. I've always been a competitor. That's just one of my strengths. I'm really a competitive guy."
And a confident one, too.
"If you can go six innings, two runs, with nothing, obviously I deserve to be here," Montgomery said.
No one seems to disagree.
"We think he has a lot of poise for a young pitcher," Yankees manager Joe Girardi said. "I thought he did today. You look at the first three innings, he really didn't have his curveball. He really didn't throw a good changeup until the fourth inning. But I thought he did a really good job of minimizing damage."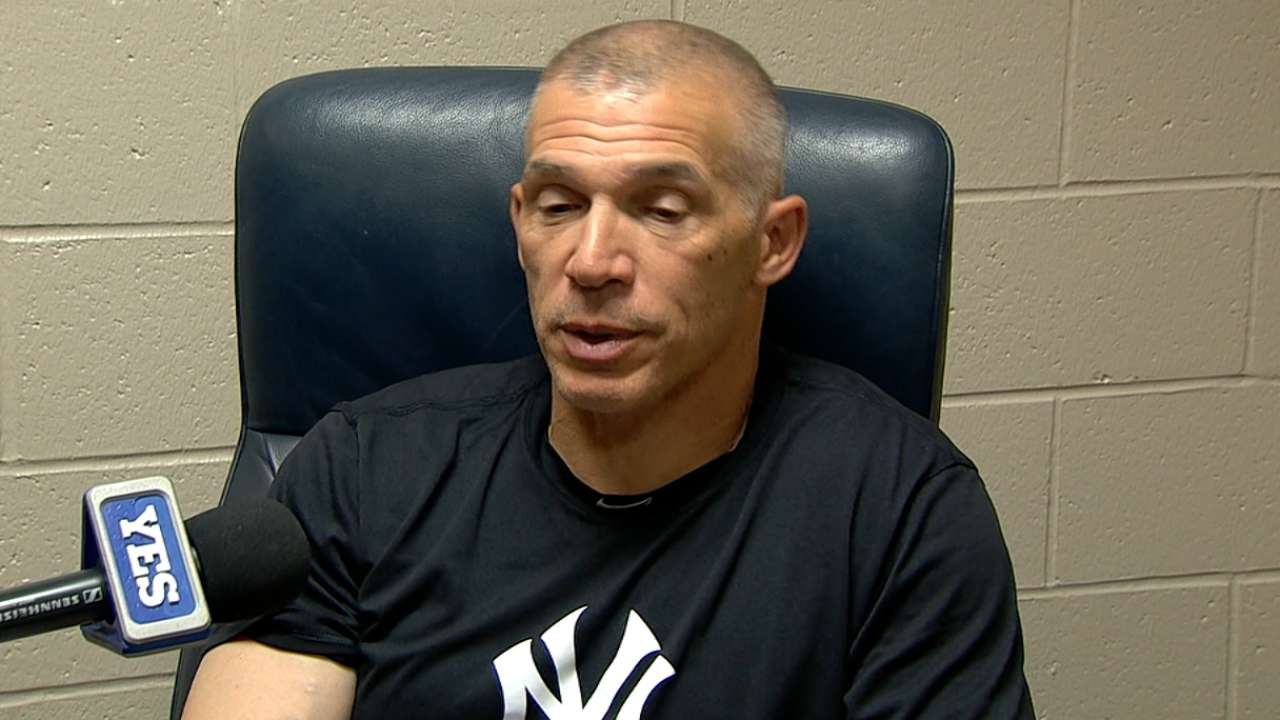 Girardi added, "You want him to keep taking steps forward, and I think he took another one today."
Montgomery yielded two runs in six innings, lowering his his ERA to 3.78, even though "It felt like we were in trouble all day," according to third baseman Chase Headley.
"It really didn't look to me like [Montgomery] has looked in some of his other starts, and from what I've seen in the spring, just stuff-wise," said Headley. "But that's important to be able to pitch and keep us in the game when you don't have that stuff. I thought he did a nice job just kind of controlling the damage."
Montgomery left after six. It was 2-1, and things stayed that way as the Yankees put two runners on base with one out in the eighth, loaded the bases with one out in the ninth and ended up with nothing.
""We weren't able to get the big hit when we needed to," Girardi said.
A 14th-round Draft pick out of South Carolina in 2014, Montgomery made the club as the fifth starter after spending less than three full seasons in the Minors. At 6-foot-6, he reminds some of another big left-hander the Yankees had, Andy Pettitte. That might be a reach, but there are encouraging signs beyond Montgomery's make-up and confidence.
"He's got a good arm," veteran outfielder Brett Gardner said. "He's not a guy who's sitting in the upper 90s, but he knows how to pitch. Good changeup, good breaking ball, and when he's got his command, he's pretty tough to hit."
Bob Cohn is a contributor to MLB.com based in Pittsburgh, who covered the Yankees on Sunday. This story was not subject to the approval of Major League Baseball or its clubs.