Yanks' Kyle Higashioka earns first MLB callup
"It didn't really sink in. To be honest, it feels pretty normal," Higashioka said. "The clubhouse is the same. It's a lot of guys I know here, so maybe once we get on the field and the game starts it'll be a little more surreal. But as of right now, it feels like just another day."
Higashioka, 26, was added to the Yankees' 40-man roster this past November after batting .276 with 21 homers and 81 RBIs in 102 games between Double-A Trenton and Triple-A Scranton/Wilkes-Barre last season, setting career highs in runs (55), hits (102), doubles (24), homers, RBIs and walks (38).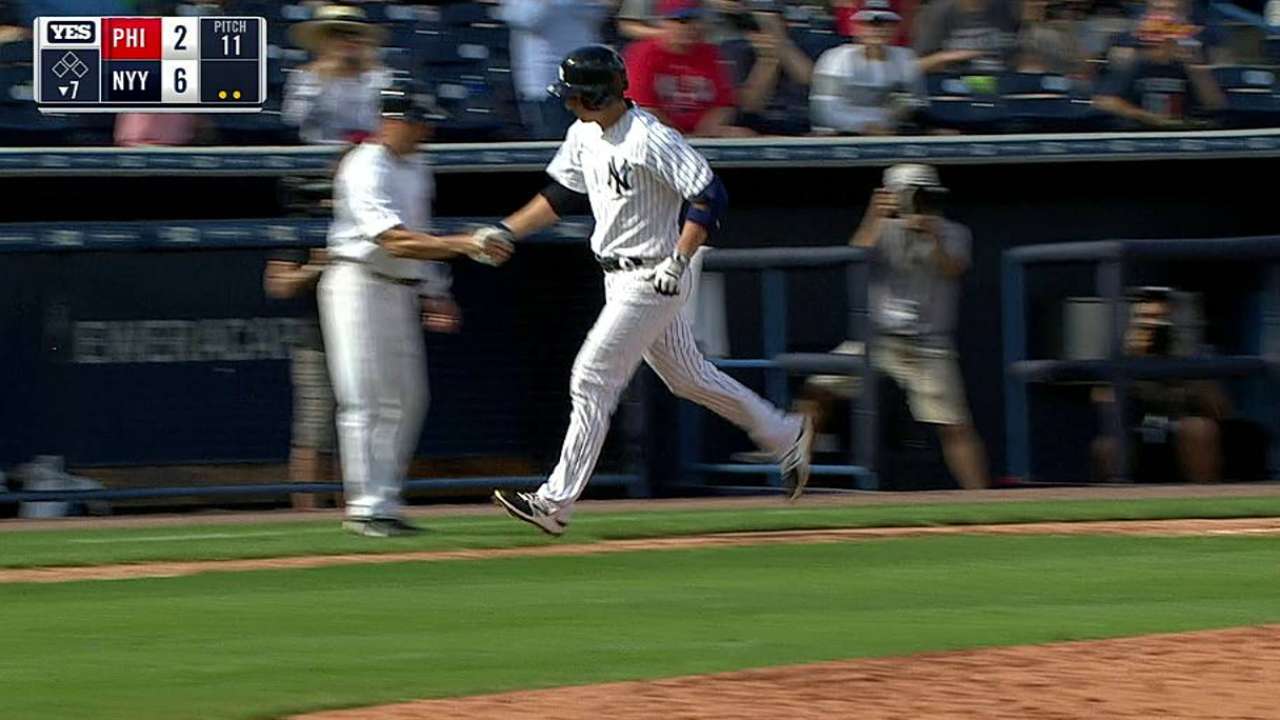 "I think the biggest improvement has been offensively," manager Joe Girardi said of Higashioka, a seventh-round pick of the Yankees in 2008. "I saw him when he was 18, 19 years old. He could always catch."
With Sanchez on the 10-day disabled list, Girardi plans to have Austin Romine and Higashioka split the catching duties, suggesting that he might pair Higashioka with some of the starters that he worked with in the Minors. Romine was behind the plate on Sunday to catch CC Sabathia.
"I don't look at it as both being just defensive guys. I think they can add offensively," Girardi said. "I think Ro did a really good job in those situations for us last year and took advantage of his playing time. We need the two guys to do it again."
Higashioka said that a slight mechanical change helped him barrel the ball more consistently last year, after entering that season with just 30 home runs in 411 Minor League games. He twice had opportunities to leave as a six-year free agent, but opted not to.
"It feels like I made the right decision staying," Higashioka said. "Obviously, the Yankees have done a lot for me in my career giving me the opportunity to keep playing, and they gave me the opportunity to sign out of high school. So it's really nice to make it up with the organization that you start with. You know everybody from top to bottom. It's a nice sense of family within this organization."
Worth noting
Greg Bird (bruised right ankle) said that he hopes to play in Monday's home opener against the Rays, but a bout of food poisoning or the flu could derail those plans. Bird said that he felt ill Saturday night following the Yankees' 5-4 loss to the Orioles.
Bryan Hoch has covered the Yankees for MLB.com since 2007. Follow him on Twitter @bryanhoch and on Facebook. This story was not subject to the approval of Major League Baseball or its clubs.